As far as polishing accessories go, polishing pads are by far the most important tools to maintain. Once they get saturated with the metal polish and stripped paint, not only do they underperform but also release the splatter contained within their pores.
Here's how you can clean your polishing pads to keep them up to scratch for a long time.
1. Know When the Pad is Completely Saturated
Whether your pad gets saturated during a polishing job or at the end of it, you should hurry up and clean it before there is substantial residue build-up.
You can usually tell when a buffing pad is severely matted that it's completely saturated, but a saturated wool pad may not be so easy to detect. For such pads, make it a point to stop the Cyclo Polisher after polishing or buffing surfaces worth two car hoods.
2. Distance Yourself from the Vehicle
If you're stopping to clean during a polishing job, the finish on the frame is bound to be fresh. Since you're going to be dusting with the pad still attached to the polisher, there will be lots of spatter flying out of the pad.
To avoid getting debris on the fresh polish, take the polisher a few feet away from the frame whenever it needs cleaning.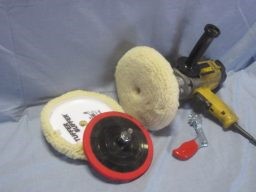 3. The Keyword is 'Gentle'
Whether you're using a scrubbing brush or a heavy-duty pad cleaner with spurs for bristles, you need to make sure you apply light pressure on the rotating pad. By being gentle, you can get rid of the residue without damaging the pad.
If you're using a spur cleaner, you'll also want to make sure you're moving it on the spot that's spinning farthest from your body. That way, if you do happen to lose your grip on the spur, it will end up on the floor instead of flying in your direction.
4. Know When the It's Done and Dusted
Just as you can tell when a pad is saturated, you can also tell when it's dusted all the way through. The matting will be gone, and it'll look almost as good as new. To make sure you have something to compare it with, take a photo of the pad before you start polishing.
Since wool pads are a little trickier to clean off completely, we suggest you treat them to a cleaning solution. After you've squeezed out all the dirt, dab it with a microfiber polishing towel, and place it face up to dry out.
Has Your Metal Polishing Equipment Done Its Time?
You can make polishing pads last longer, but you can't make them last forever. When no amount of dusting is able to bring them up to speed, go to Perfect Polish to buy polishing accessories.
Get a brand-new polishing pad and Cyclo Polisher, or buy a bunch of them by purchasing a Cyclo polisher package. While you're at it, add a microfiber towel package to your cart, and have it delivered free of charge in the United States.
Take a look at our catalog and buy it all online.