Microfiber Towels
Microfiber – What is it? Microfiber is a revolutionary man-made fiber (70% Polyester and 30% Polyamide) that is softer than silk yet very durable. The threads are ultrafine, about 200 times finer than a human hair, which make them super soft. There are over 200,000 micro fibers per square inch of cloth. They are unexcelled for cleaning and buffing. Click here to read more about how microfiber is made and used. Washable and durable, our microfiber polishing towelsusually last for years. When dirty just throw them in the washing machine with your favorite detergent.
When used for buffing aluminum they provide a brilliant, scratch-free finish. For general cleaning chores they can be used dry as dusting cloths or wet for wipe-down cleaning. The tiny micro fibers lift and hold dust, oily films and grime without the need for cleaning solutions. The dust doesn't shake out like dust from a feather duster. Spray a little water on the glass and wipe dry with one of these towels. The glass will be clean and streak-free. Cleaners such as Windex can be used but usually plain water is all that is required.
We offer a variety of microfiber towel packages to suit every application.
Microfiber Towel Package
The Cyclo Towel Package is intended to be used in conjunction with the Cyclo polisher for final buffing. We've been using the microfiber towels to do the final buffing by hand rather than using the Cyclo polisher and clean fleece. This method saves time because there is no need to keep switching the Cyclo polisher between the polishing cloth and the clean buffing cloth. The towels have a natural affinity for the polish and will pull residual polish out from around rivet heads far better than the Cyclo polisher and fleece. The final shine with the microfiber is even brighter than buffing with fleece. For details visit the Using the Cyclo Polisher page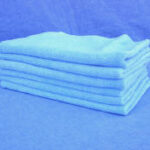 The towels are premium quality, size 16″ x 24″. These are the thickest, plushest towels we have seen. They make an excellent general purpose detailing and dusting cloth. This package contains 6 towels but we offer them in packages of 3.
Detailing Packages
These microfiber towels can be used in the home or auto for variety of dusting and wipe-down cleaning chores. They are vastly superior to cotton terry towels in virtually all applications. Once you use microfiber you won't go back to cotton towels.
All of the microfiber products are imported.