Polishing Cloth
AVAILABLE NOW: New, Reusable Polishing Cloth 40% thicker than the current Fleece Wrap cloth. Includes instructions to add cutouts. Smaller 24 x 30 inch cloth adds less weight to the tool also comes with lower price.
We offer both cotton fleece and microfiber products. The consensus is that the best cloth for polishing aluminum is cotton sweatshirt fleece. It has a soft fleece on one side and a tough knit on the other. The fleece side goes against the aluminum and carries the polish to the surface.
Our fleece polishing cloth is a white 100% cotton sweatshirt fleece from a domestic mill. This same material is used by premium sportswear manufacturers. If you're wearing Calvin Klein or Nike sweats, you're probably wearing this material.
Available soon from Perfect Polish:
Cyclowraps from Frasers Aerospace made to exact dimensional specifications as the original Perfect Polish Fleece Wrap cotton polishing cloth with one major difference. The more consistent, tighter weave of the Cyclowrap allows these polishing cloths to be washed and reused. The Cyclowrap offers the same size and pre-cut slits in the same locations as the original Fleecewrap.
Cyclowraps are offered as a 5 pack for $75.00 or a 10 pack bundle for $145.00 which still includes a cable clamp and instruction sheet.
Email perfectpolishin@gmail.com for product details and availability
Our microfiber towels are thick and plush. When used for buffing they produce a brilliant shine and will not scratch. We offer a variety of microfiber towel packages.
FleeceWraps
FleeceWraps are cotton fleece cloths that have been cut specifically for use with the Cyclo polisher. The Cloth is cut into 24″ by 30″ pieces and includes instructions on how to cut the 5″ slits in the corners and along the sides as shown in the picture opposite. These slits fit over the motor housing or front handle of the Cyclo polisher.
The tail of the fabric is then rolled up and the tails brought up between the motor housing and front handle. The tails are then clamped together using a ratcheting cable clamp. One cable clamp is furnished with each 10-pack of FleeceWraps.
To see in detail how this is done, go to the Using FleeceWraps page.

Each cloth will provide 14 polishing positions as shown.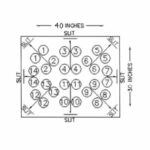 The cloth stays in place while you polish. You don't have to pay constant attention to keeping the cloth properly positioned under the heads of the polisher. And you never have to hold dirty cloth.
When clean cloth is needed it can be brought under the polishing heads by using a different slit to reposition the cloth.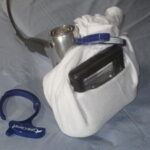 Since each FleeceWrap provides 10 polishing positions, it provides far better utilization of the cloth than the old method of grabbing a bunch of cloth, passing it under the polishing heads, and attempting to hold it in place via the front and rear handles.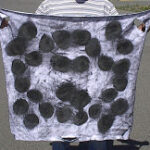 How Many Are Needed?
For aircraft, 10 FleeceWraps is probably enough to do the average small airplane. If you're doing a coarse polish followed by a finish polish, then you will use double that amount unless you wash them.
For Airstream trailers it's a little hard to estimate. A guess is 1 FleeceWrap per foot of trailer unless you wash them.
Toss 'Em, Don't Wash 'Em
Our polishing cloth is reuseable when soaked overnight in a bucket of warm water with TSP or a similar cleaning agent, and then rinsing in a separate bucket of cold water.
Air dry the Fleece Wraps for best results.
But since you get quite a bit of mileage from each piece consider just tossing them out when dirty.
Try the FleeceWraps. They make polishing go a lot easier. Say goodbye to rag hassles.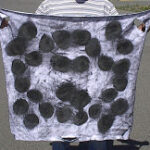 Detailing Packages
These microfiber towels can be used in the home or auto for variety of dusting and wipe-down cleaning chores. They are vastly superior to cotton terry towels in virtually all applications. Once you use microfiber you won't go back to cotton towels.
All of the microfiber products are imported.