Aluminum polishing is a three-step process that should leave no less than a mirror finish on corroded or new aluminum. Even though many car polishers promise anything, from user-friendliness to reflective surfaces, only the best ones pass muster.
In today's blog, we'll discuss properties that make the perfect aluminum polisher to help you whittle down your search.
Maker's Credibility
A polisher for aluminum is only as good as its creator, which is why you must always do thorough research on the manufacturer. See if they have an overall good and enduring reputation when it comes to quality and durability.
You can undertake this task by checking the frequency and language used in their third-party reviews or try other methods to spot fake reviews.
Throw Range
'Long-throw' and 'high-action' are terms used to describe a polisher with a large orbit. The larger this orbit, the quicker you'll get done with the polishing job. Now, this is sort of a double-edged sword.
In promising a wider orbit, many polishers end up eschewing hard-to-reach areas. Here's where you need to weigh your pros and cons. You can either prioritize efficiency and buy the polisher anyway, leaving the tighter spots to a polishing towel, or shop around for a polisher that's quick and guarantees a finish on smaller areas.
Weight
We might live in an increasingly lightweight world, but the need for lighter polishers is as old as the practice itself.
Weight plays an important role in a polisher's ease of use because you need to be in control of the machine at all times. If it's heavy, you won't be able to move it across the aluminum at will. Therefore, you must always go for a lightweight polisher.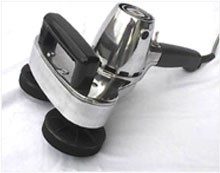 Speed Range
As an auto detailer, you're probably aware that speed range has to be fluid because you usually start at a lower setting and work your way up as you go from section to section.
Thus, you'll find most polishers on the market to have a speed range between 600 and 3000 orbits per minute, complete with adjusting capabilities.
Price Label
Where polishers are concerned, what you see is precisely what you get. If what you're seeing involves an affordable price tag, you might be investing in an unreliable polisher that's unlikely to get the job done quickly and effectively.
You should always see your auto detailing supplies as an investment. Thus, you must not hesitate to buy the highly recommended ones, no matter their going rate.
The Perfect Polish brand dates back 20 years. During this time, we've had the honor of becoming the best supplier of polishing accessories in all of America.
The metal polishing equipment at our store is personally tried, tested, and approved by our experienced founder. So, you can just go right ahead and buyCyclo Polisher for aluminum, compounding car polisher, Cyclo polisher packages, and polishing towels, and more.
Click here to make the most of your car polishing supplies.