Once a previously damaged aluminum surface is treated to an auto detailing job like metal polishing, you need to make sure it stays undamaged long-term. Since aluminum is susceptible to different types of corrosion, it's even more important to ensure long-lasting protection.
Here's how you can prevent damage to polished aluminum surfaces.
1. Coat the Polished Surface
After you've polished away the superficial scratches and removed all signs of corrosion, you need to make sure the same thing doesn't happen again.
While not a surefire solution by any mark, by anodizing, painting over, or coating the aluminum according to the level of polish, you may be able to protect it from pitting corrosion. We recommend a clear coat so that you can maintain the finished look of an airframe, airstream, or other aluminum-body vehicles.
2. Make Sure It Stays Clean
To be sure you don't encounter damage, in the long run, you need to keep your aluminum frames free of dirt, debris, and other pollutants. Regular light cleaning is the only way to remove environmental elements and prevent permanent damage.
Keep in mind, however, that cleaning shouldn't be limited to immobile parts. For instance, airplane propellers can often collect dirt. When turned on, they may then transfer this dirt to the polished aluminum nearby. So, make sure all the contaminated parts are accounted for.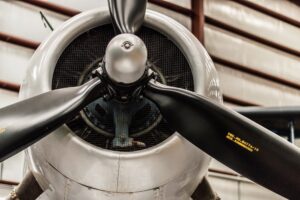 3. Keep the Moisture Out
Damp conditions and aluminum don't get along. Unfortunately, you can't separate the two completely, which is why the aviation industry has taken to calling it nuisance moisture. It's caused inside an aircraft due to water droplets from human respiration and outside because of the weather.
While the damp conditions may not be in your control, you can keep an eye on pockets and components where moisture is likely to gather and form. You could also install some sort of moisture control system inside, if not outside, the aluminum frame to keep things as dry as possible.
4. Park Indoors
It's bad enough for your polished aluminum frame to be subjected to moisture on the road or in the air; you don't want to add unnecessary pressure by parking or boarding it in the open air.
When not in operation, aircraft belong in a hangar, and airstream trailers belong in an indoor storage facility or garage. By doing so, you'll be able to ensure the shine and protection of the aluminum polish months after the finishing job.
The next time you run out of auto detailing supplies, head over to Perfect Polish to purchase a Cyclo Polisher for aluminum (painted and bare), polishing pads, and other metal polishing equipment.
Browse our catalog of polishing supplies today.